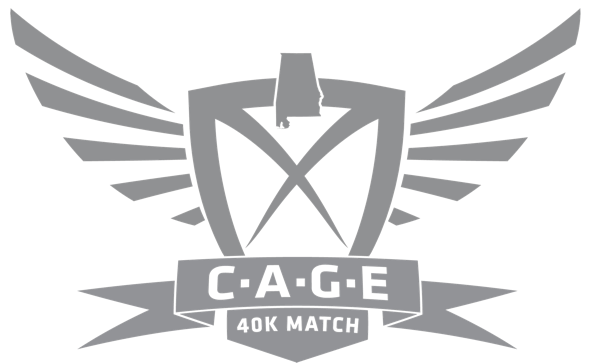 by Jeff Weibelt
Would it be possible to run a statewide tournament for Alabama?
That was the question that the CAGE Match was trying to answer. We knew what all we wanted to accomplish: to find the best player in the state, to encourage communities from across the state to interact and to put on the best tournament we possibly could. It was a lot to bite off, but for the most part, the first CAGE Match was successful. So in our own insane mind, we decided to try it again.
This year should be even better than the last. We have tons of great sponsors, such as Green Stuff Industries, our own tournament FAQ for 6th edition, a modified mission that tries to combine the best of the book missions, and most importantly a year's worth of experience. The host for the Final this year is last year's banner winner and holder, Excelsior in Hoover, which is providing a total of 14 tables for the tournament. It is a great location and rivals 2012's Final host, The Foundry in Huntsville. Besides the two Final locations, 6 other stores are participating from across the state: Crimson Castle in Tuscaloosa, Dragon Quills in Gadsden, Fanatix in Dothan, CJ's Cards and Games in Hoover, Gamers N Geeks in Mobile, and Mini War Games in Fairhope.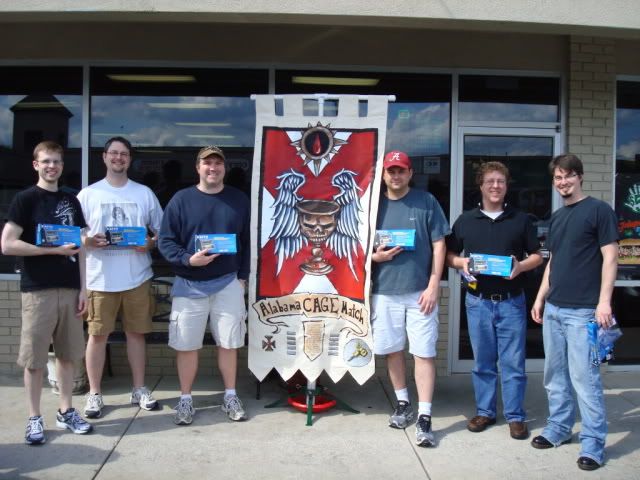 The top three qualifiers at each of the eight locations will make up 24 of the 28 participants. Shawn Williams, Ryan Johnson, Clay Williams and Raymond Linton received their automatic bids due to their performance in last year's tournament, and you can actually see some of their thoughts over on the official blog. In fact if you want to catch up on all the CAGE Match stuff go to the blog at
www.40kcagematch.com
or you can visit the forum at
www.cageforum.com
<<< >>>
This is Rich with GSI and I have to tell you that I'm really proud to be providing support for this excellent event! If you reside in Alabama (or near one of the stores listed on their site), please do not hesitate to give this event a try.